Results
This project was part of my work at UC Berkeley through the Operational Excellence program that aimed to modernize and centralize an array of administrative operations on the campus.  I was specifically involved with the Office of Sustainability's campus-wide energy conservation outreach and behavior change campaign that ultimately saved $2.5M in energy costs over two years. 
Through this website consolidation and modernization project, I directed a merger of five separate program websites into a single, responsive, modern platform.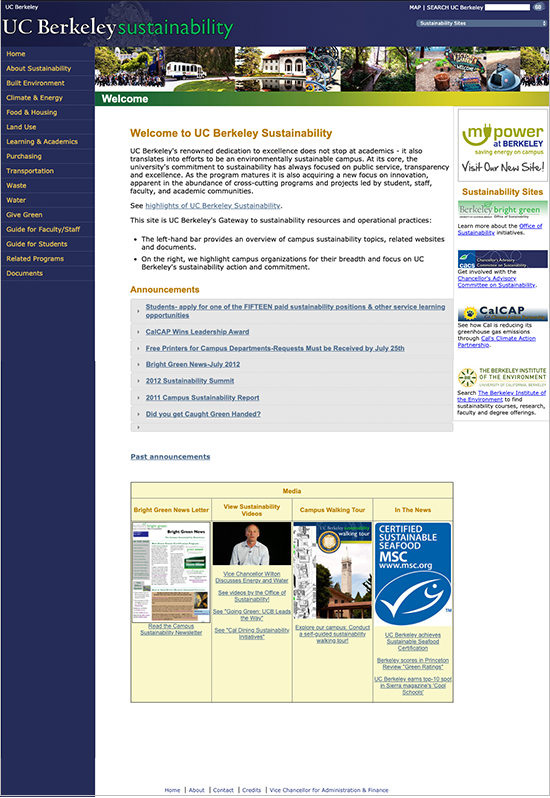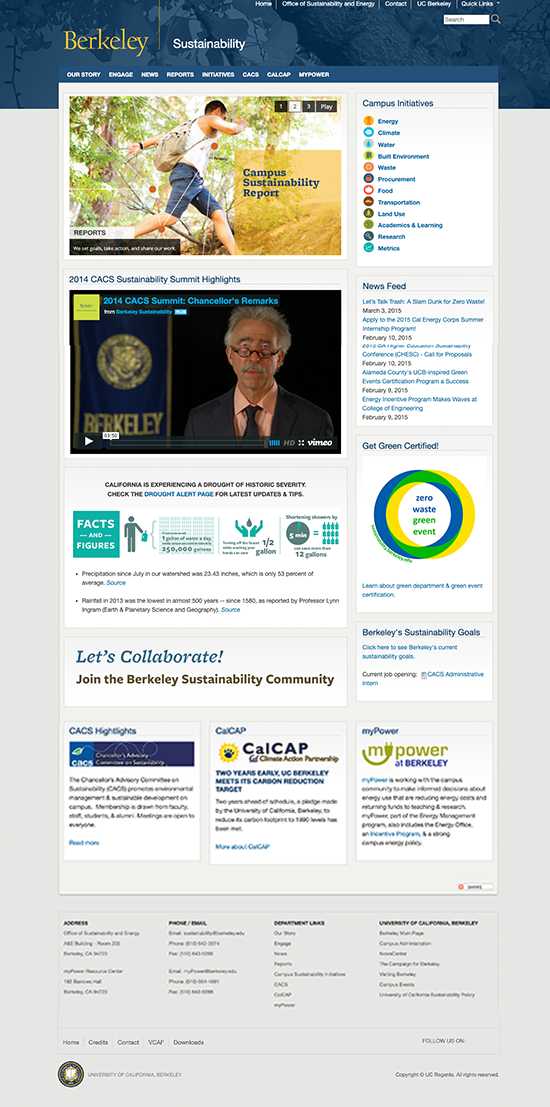 Background

The Office of Sustainability was responsible for maintaining five websites on different platforms (only one optimized for mobile) and all with different methods for making updates. One site, built on Wordpress, was consistently being hacked.

The goal of the project was to audit the content of all the sites, remove redundancies, and create a new simplified web architecture to support all content in a secure, responsive, and easy to update CMS (Drupal) platform.


Working with one other UX professional, we audited the structure and content of all five sites. We targeted redundant content and then used affinity diagramming to find areas where areas that could be merged.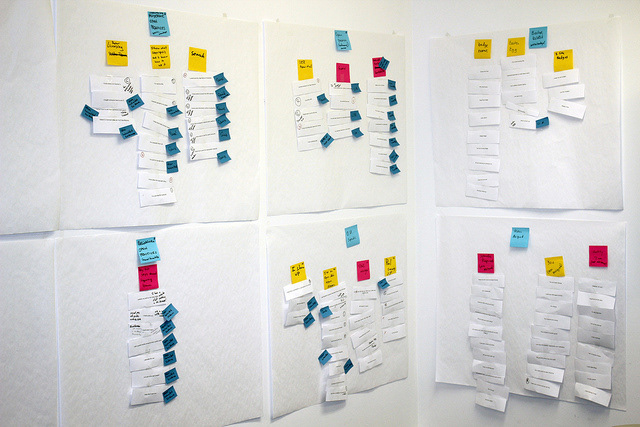 Because the content of the sites ranged beyond the core Office of Sustainability staff, we conducted interviews with all major stakeholders whose work would be affected by any changes updates. We also wanted to evaluate how they were utilizing the sites and what improvements they'd like to make.​​​​​​​

Two big take-aways from user research:
• 
Content was not easily searchable
   

 
• 
Information was outdated because no one knew how to make updates
Solutions

After auditing, we were able to create very basic wireframes to explore navigation options. The Drupal platform limited our options, therefore our explorations were limited as well.

Once we settled on the nav structure, we were then able to populate with content.

I worked on visual elements and iconography to create a fresh and welcoming look. My colleague whittled down content and updated sections, and in some instances reduced long pages of copy into interactive pdfs.
In the end, we became one of the first offices in the administration to convert to the campus supported Drupal CMS. This created a much easier and more secure platform for updates and delivered a modern, responsive experience with easily searchable information.