Empowering customers with best-in-class analytics for workplace decisions
Comfy Insights is the data analytics companion product to the Comfy workplace experience app. It provides customers with a variety of high-level building reports (with a focus on temperature) as well as access to additional custom reporting via Periscope (an external vendor plugin).
The objective of Insights 3.0 was to provide customers with a refreshed and enhanced reporting interface that immediately surfaced the most relevant insights, guiding them to the data areas most important to their roles and businesses.
The reporting needed to be tailored to the building integrations and services the customer was purchasing from Comfy, and allow them to drill down to the level of detail necessary for them to make business decisions. 
Team:
Product manager, Data Analyst, Front End Developer
My role

:
UX Research, Data Visualization Concepts, Wireframing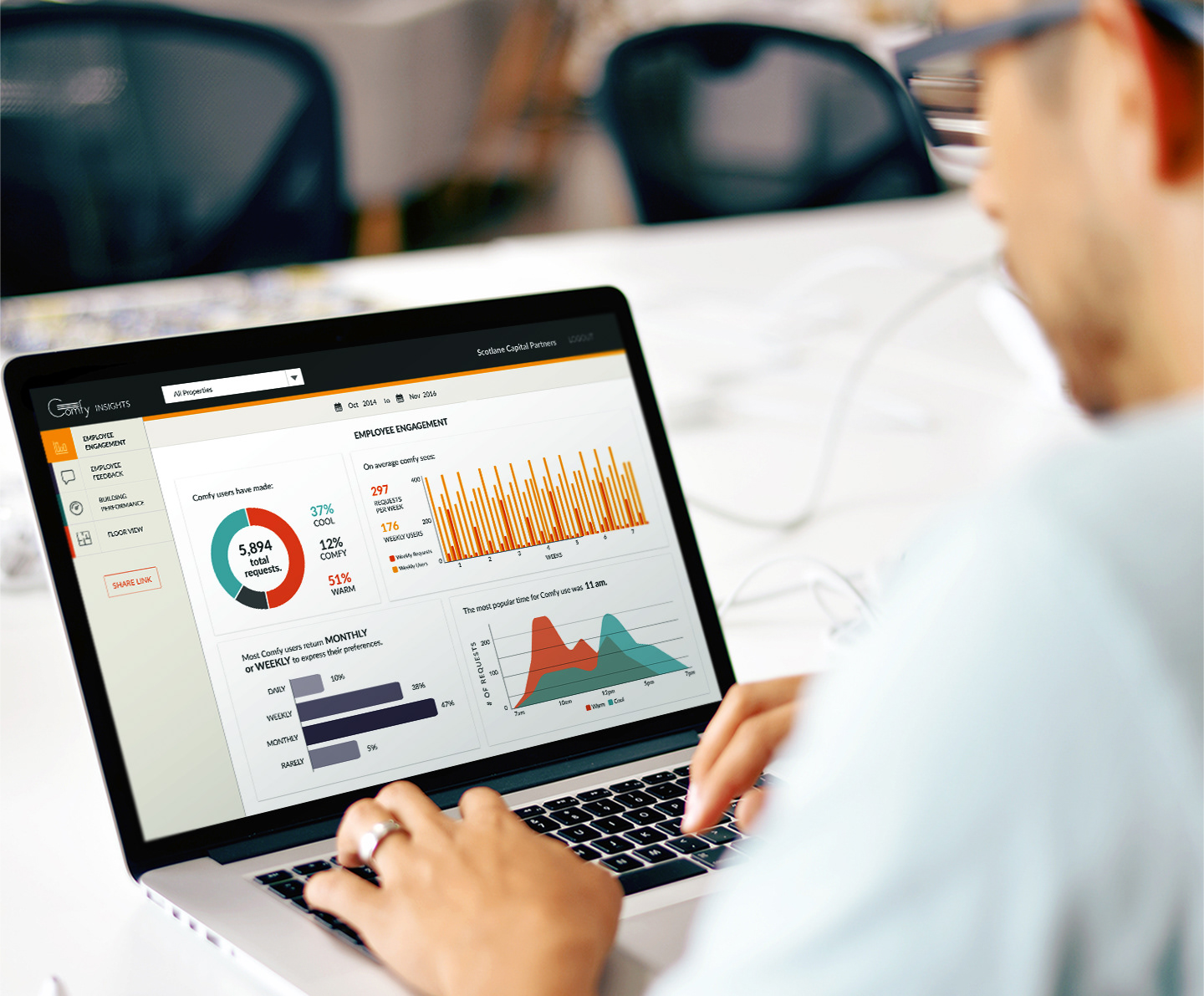 Challenge: 
Keeping up with a fast-growing feature set
Insights as a product faced a similar growth challenge as the companion workplace experience app:
• Heavily focused on temperature
   • Not inclusive of all the product features.
   • Posing  a major problem externally
      (the inability to meet the needs of customers) 
   • 
internally (expanding sales of the product). 
​
Data Viz Concepts & User Research
Since there were so many possible ways to represent the data we were able to collect and visualize by means of occupancy sensors and calendar info, we initiated this project by focusing heavily on validating ideas we around user desires. We wanted to not only represent all the features and the data but also to drill into specific questions our customers had in regards to the usage of their spaces.

We began with a set of "customer questions" derived from conversations with existing customers and the sales team.
     How are assigned and hot desks being used?
     How are conference rooms being used?
     How are users working?
     Do I have the right amenities?
     Are users using the Comfy App?
     Are users Comfy? (temperature improvements)
From there, I set forth creating a set of sacrificial concepts of data visualizations to be put in front of existing customers (building managers, buyers, etc.) to validate or eliminate viability.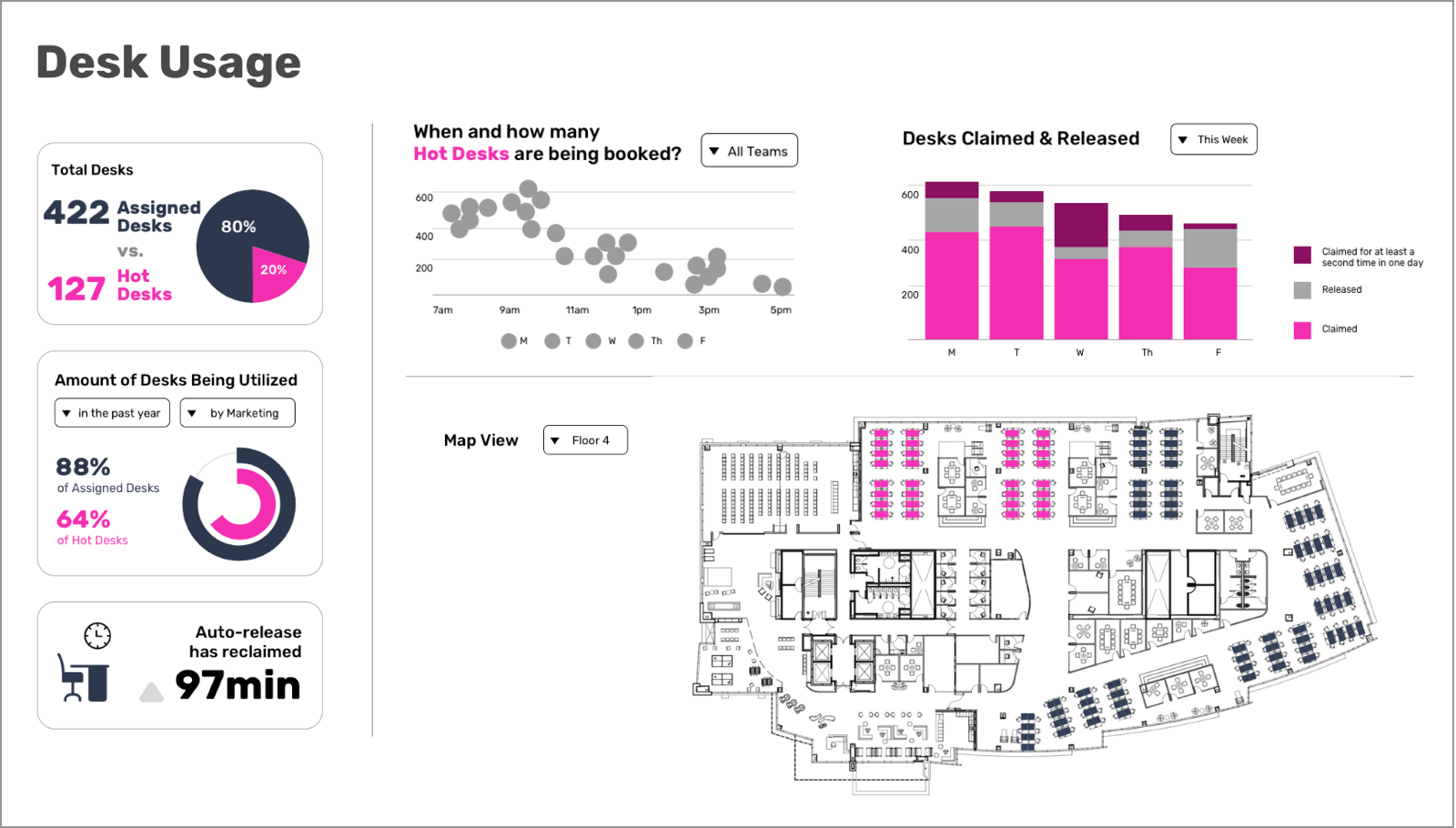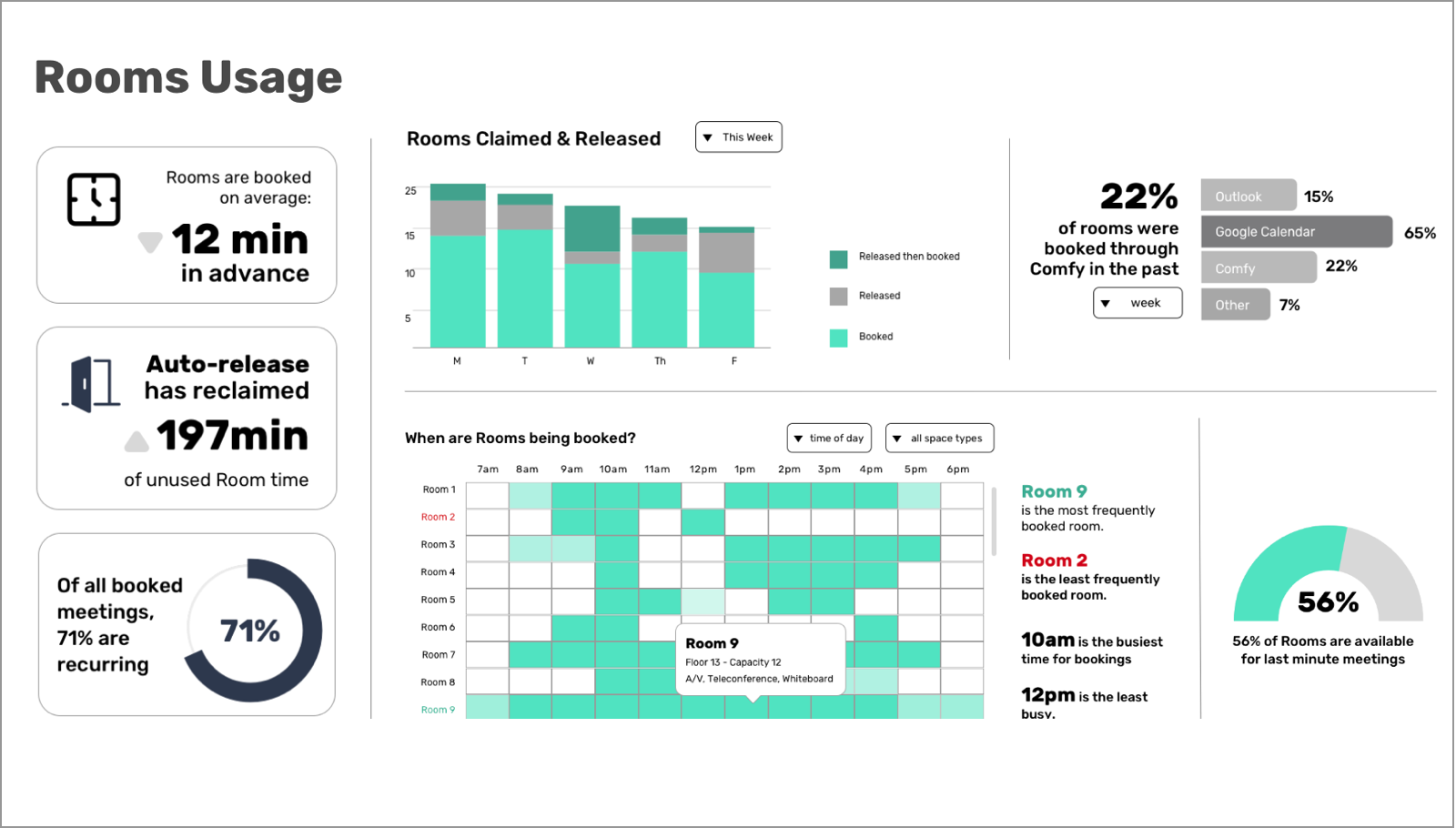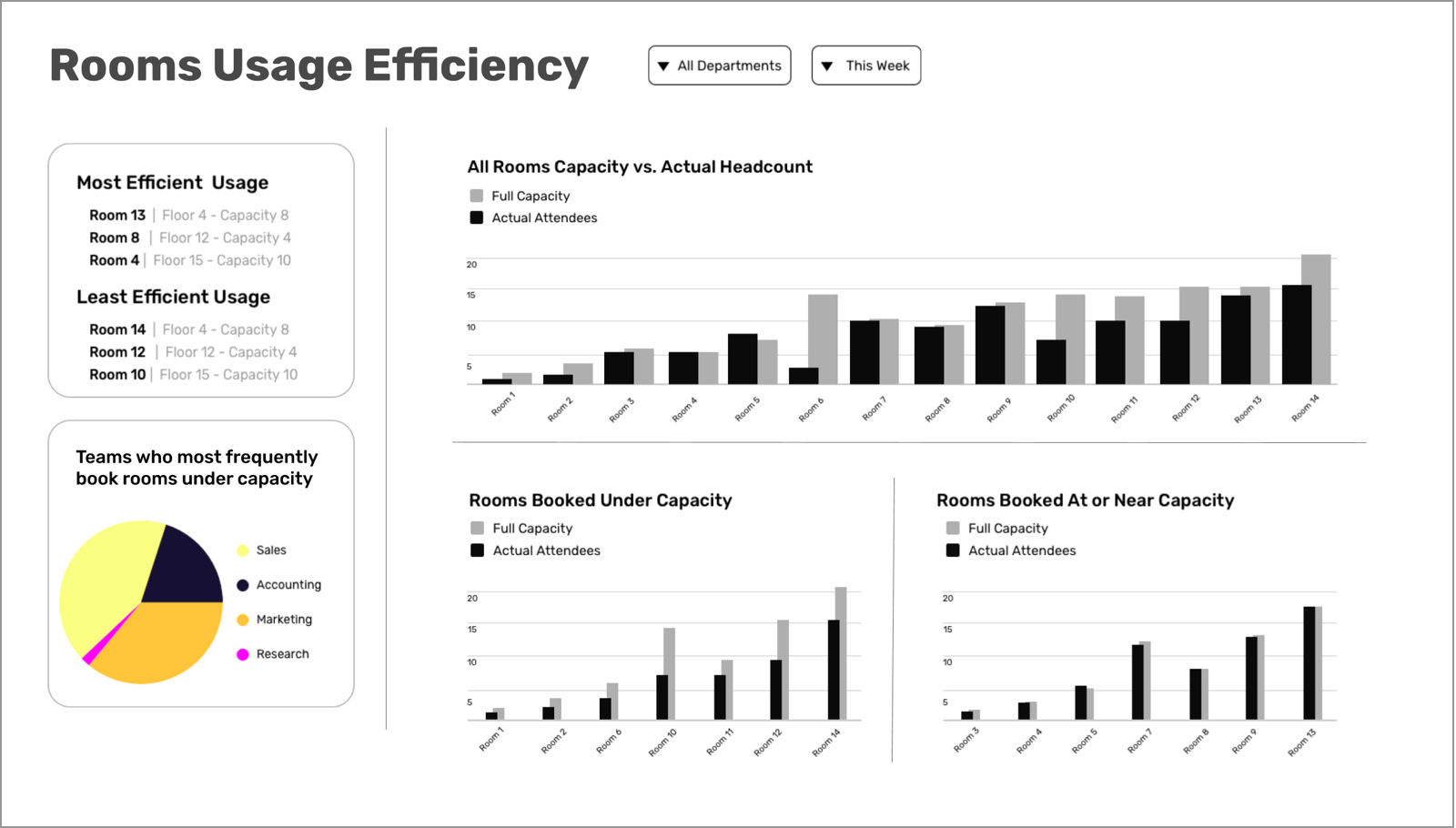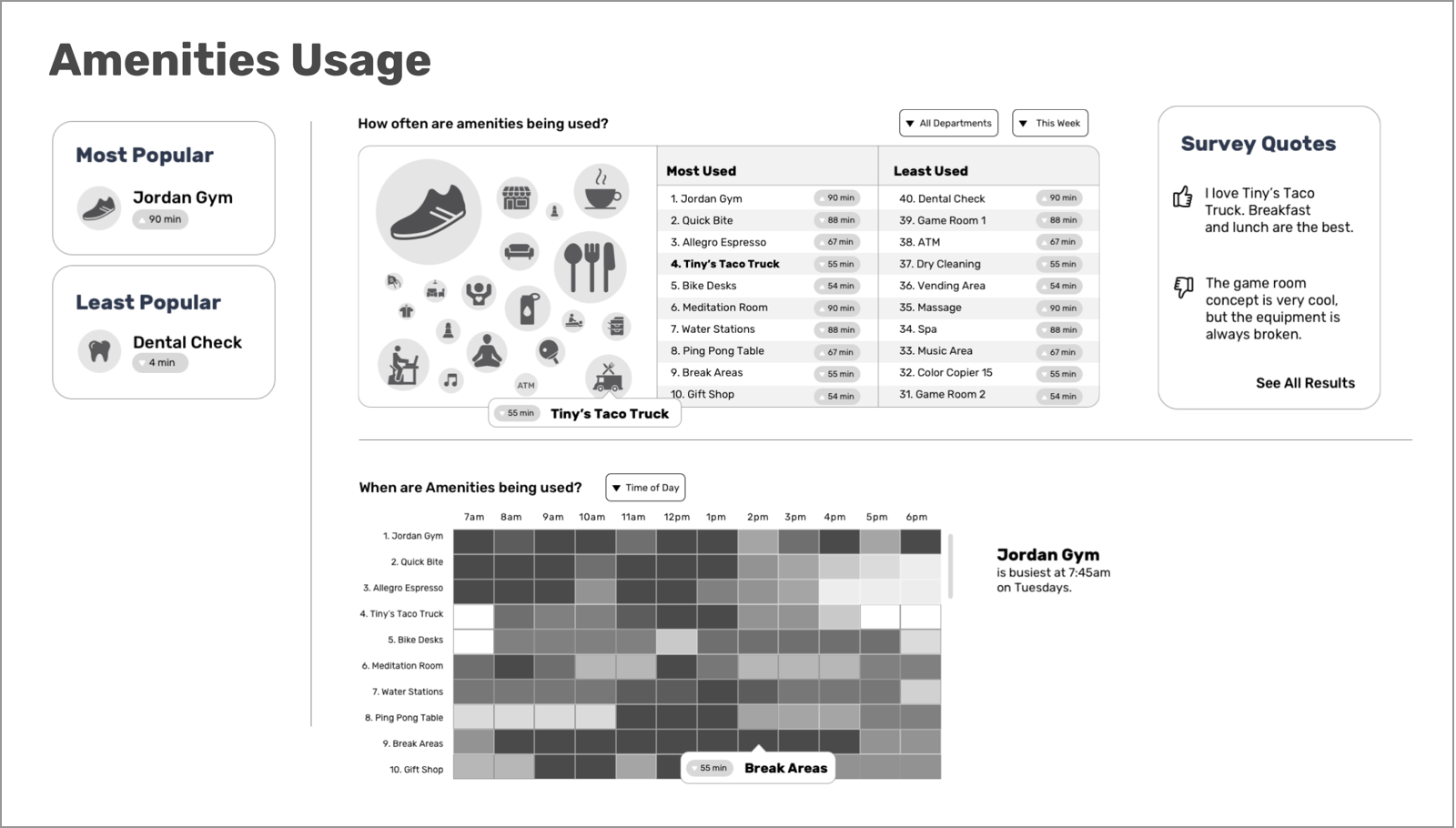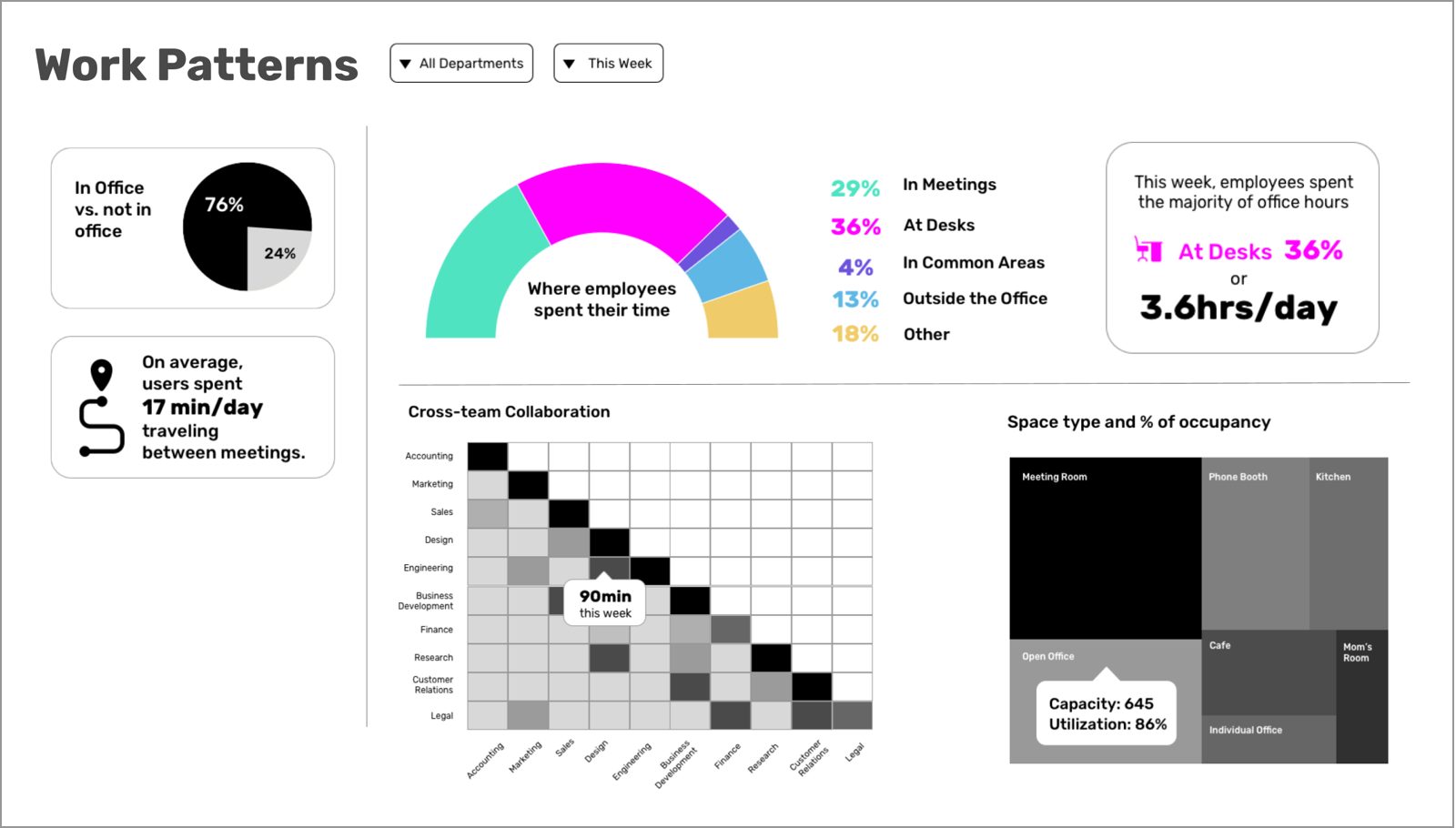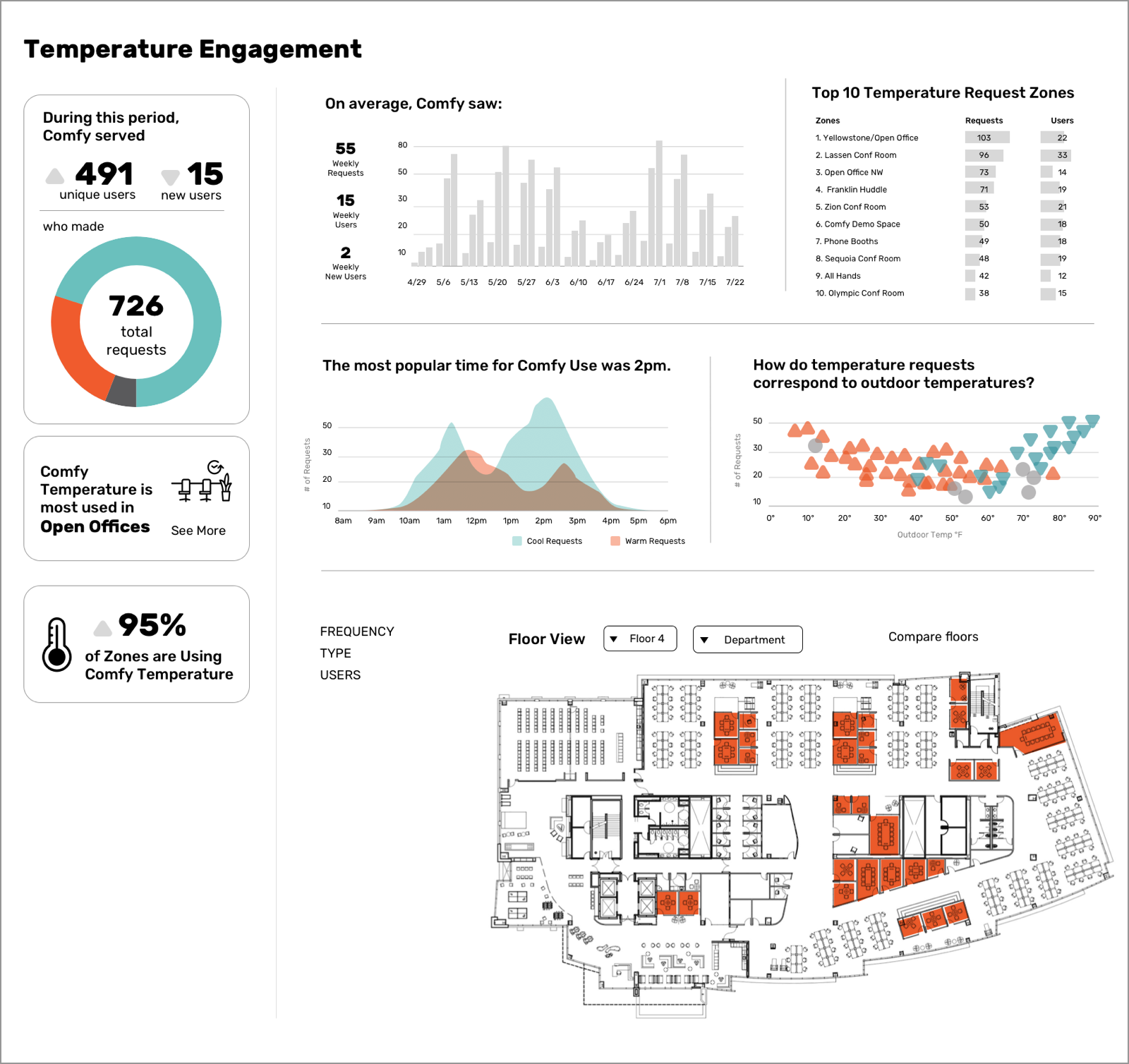 I created an interview protocol and paired with my PM to schedule video calls with customers. We spoke with 11 current customers and three internal Comfy employees.

A follow-up email survey was sent to original participants for additional information that informed the navigation restructuring portion of the project.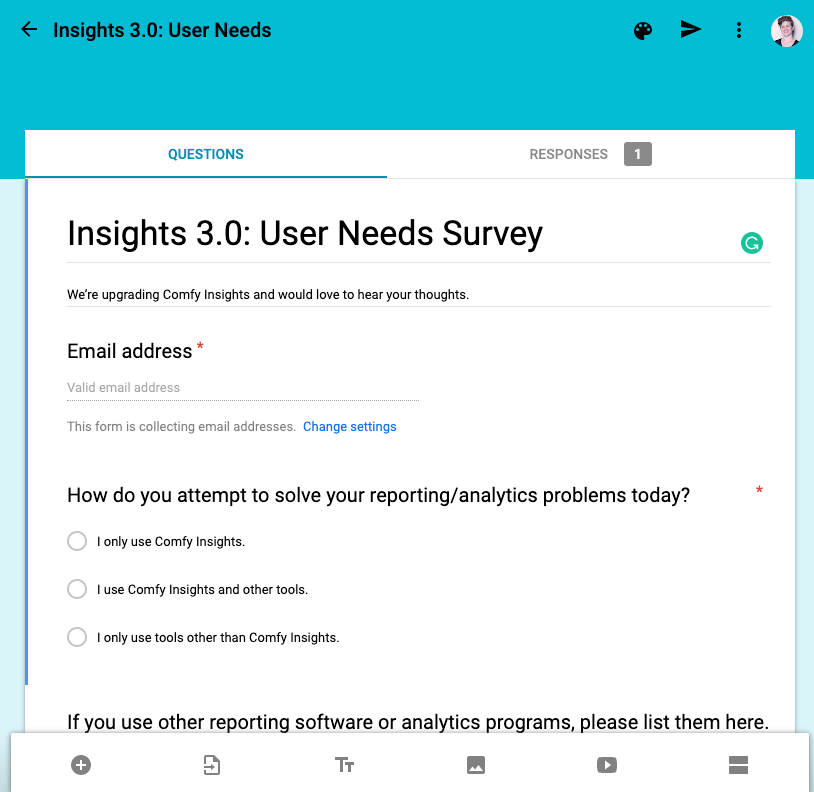 Upon completion of user interviews & the survey, I synthesized the results into a shared doc. This was opened up to comment from our data team/devs for a sanity check.

We also shared out findings in a company all-hands for transparency and to open up for feedback.
Research recommendations
With all the research conducted and synthesized, the dev team was then able to prioritize their backlog. We decided that the current nav structure would remain in the first phase of development with a major nav overhaul following the page creation.

I was then able to go into wireframing mode and suggest high-level navigation changes that were necessary to accommodate all the added features and complexity of the product.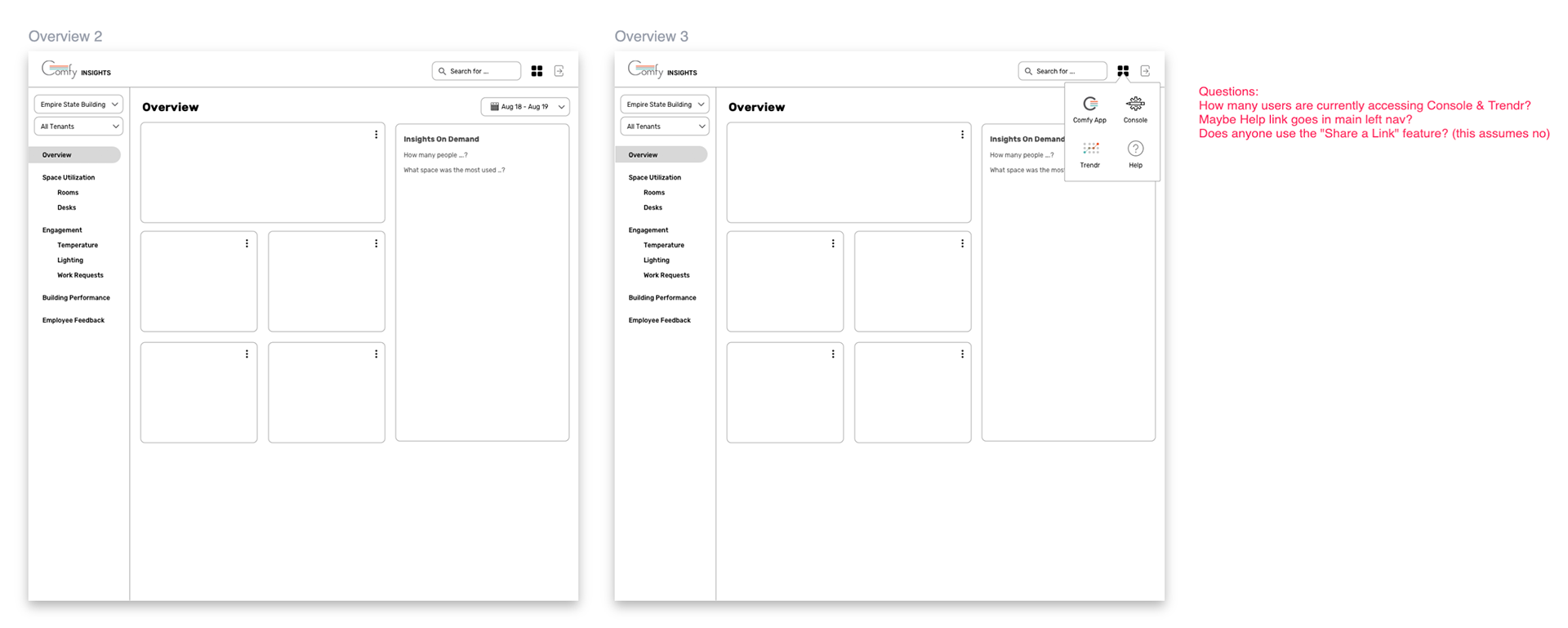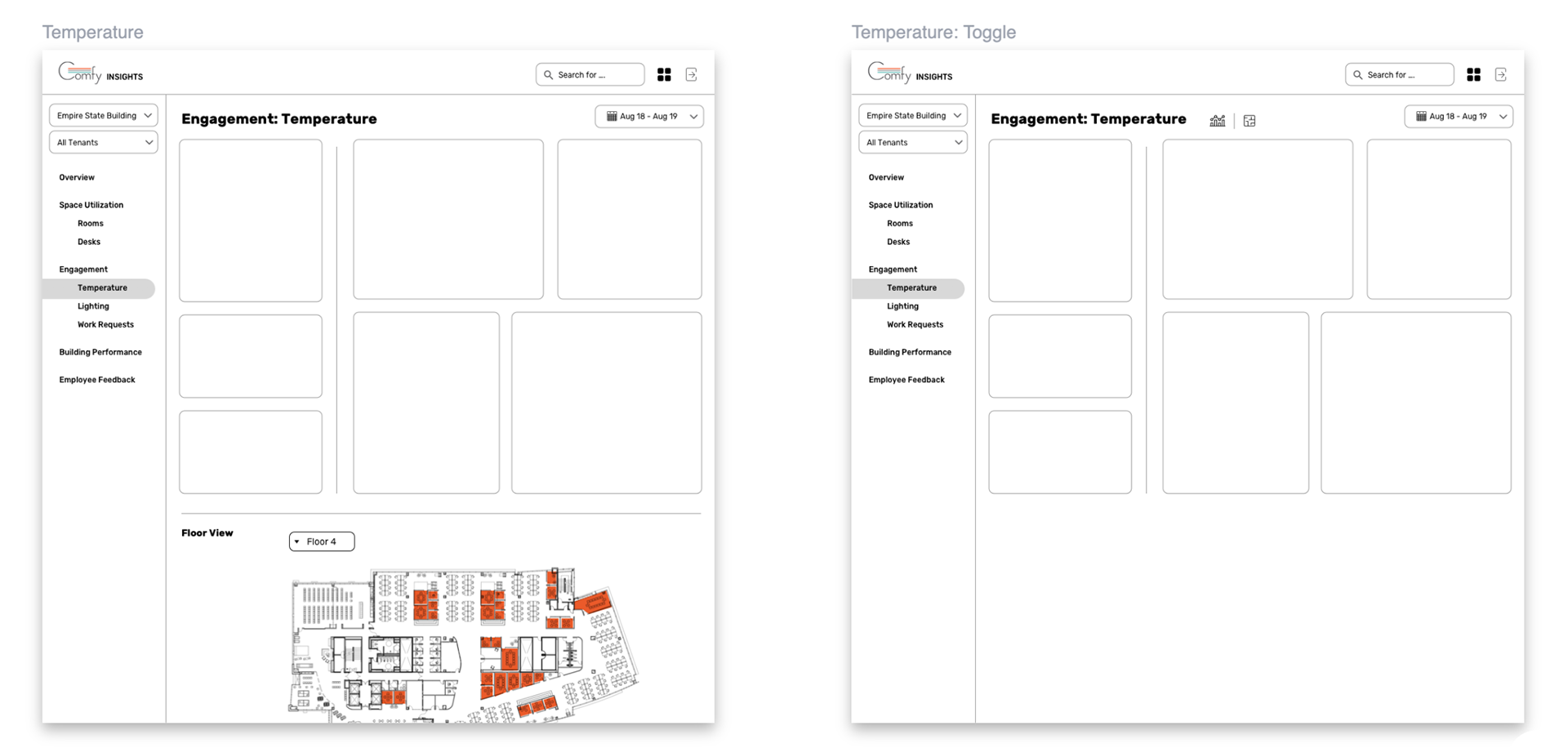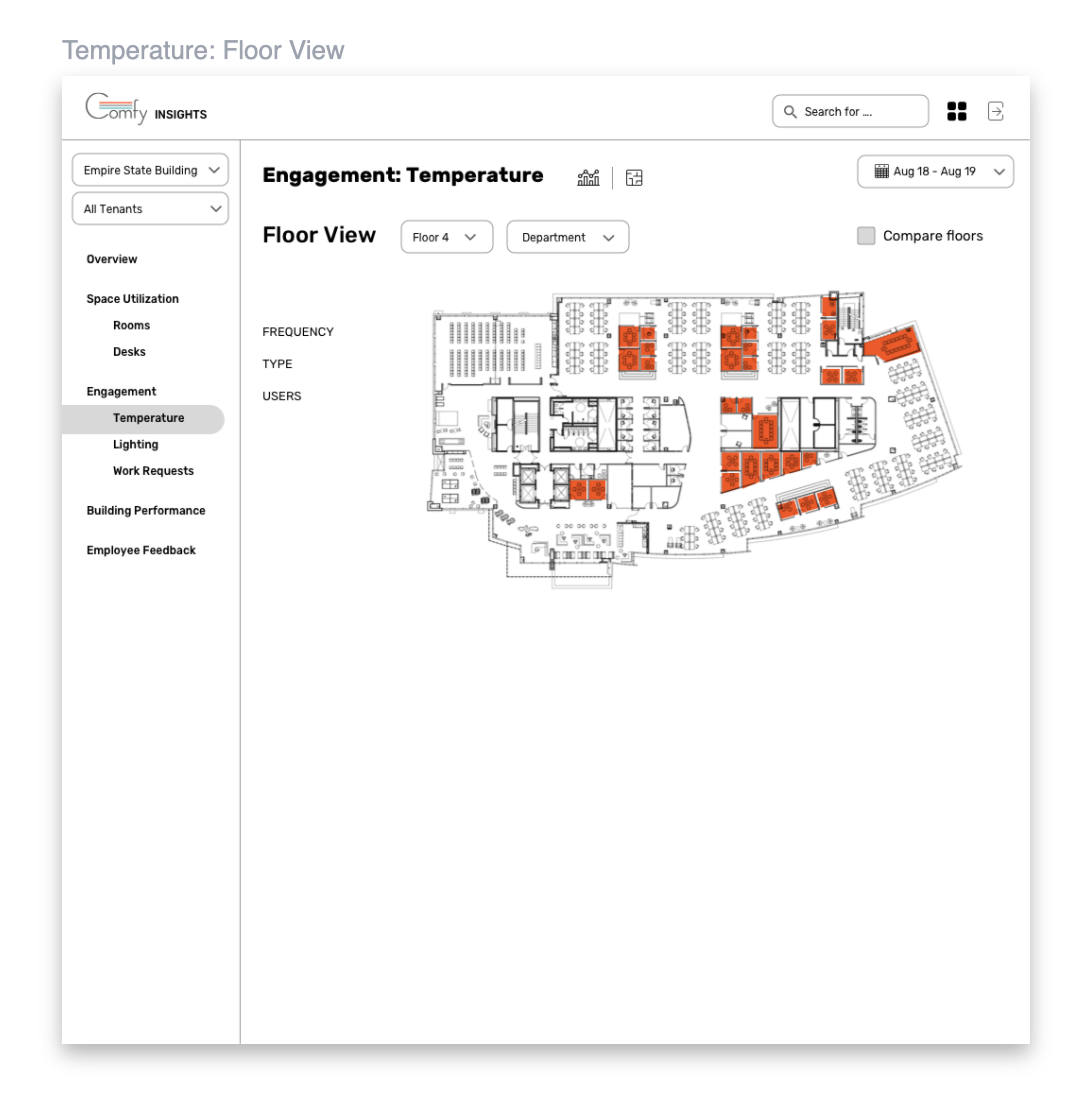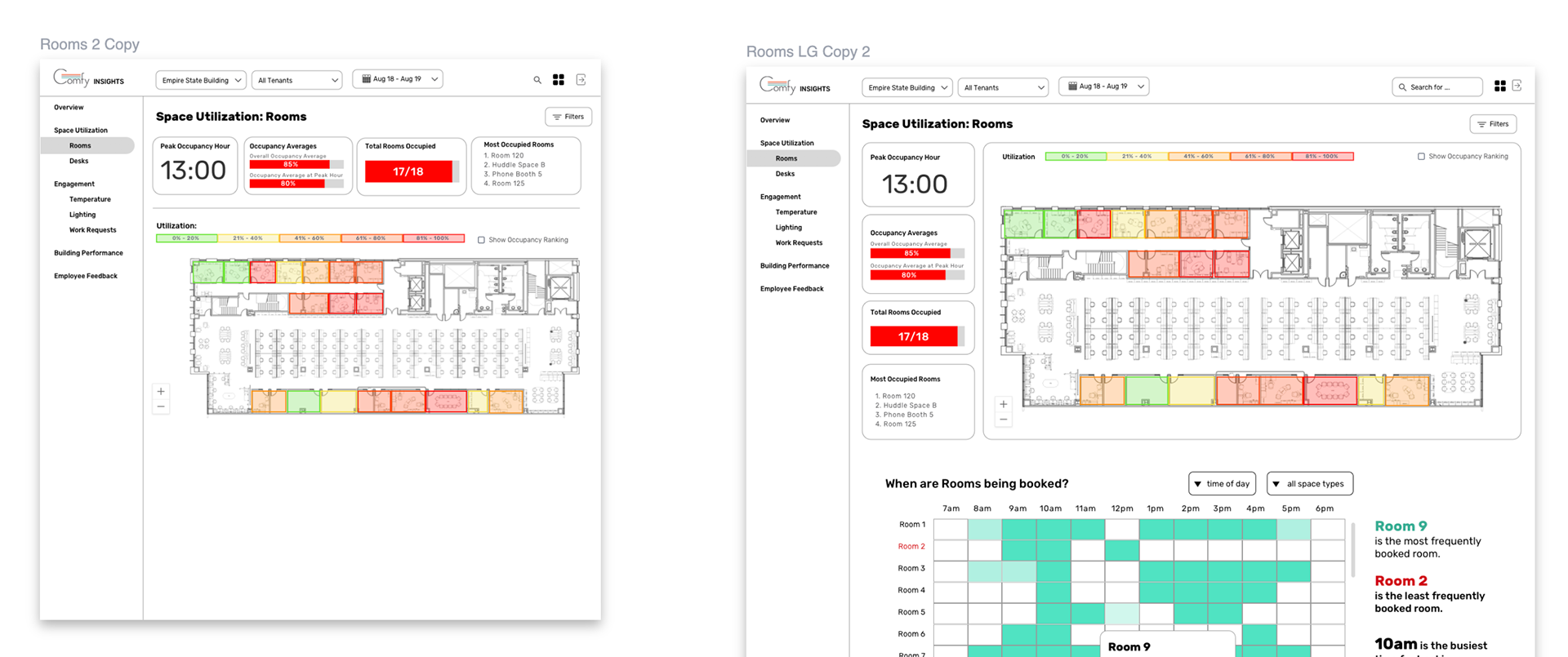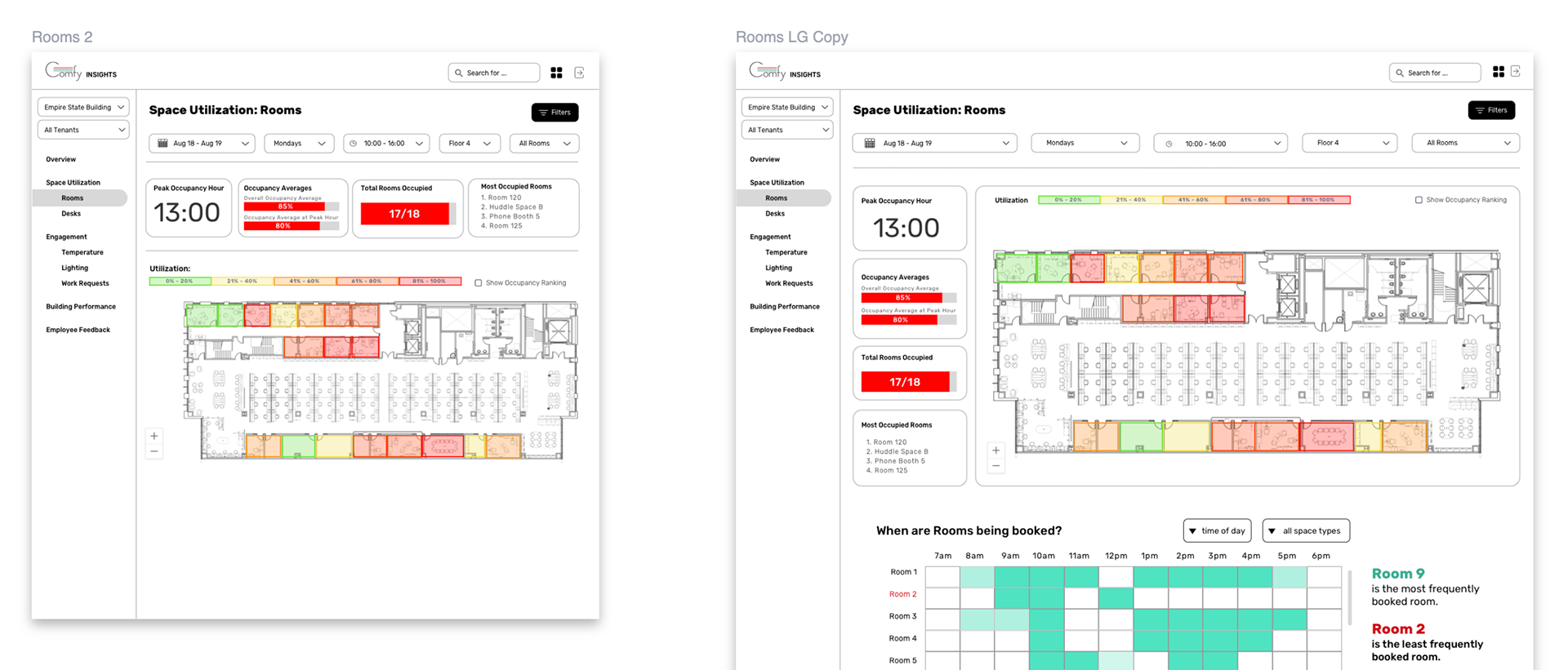 Results
At the completion of this project, I was able to handoff research-validated recommendations for a completely new vision for the product. Other designers were then able to take the wireframes to continue the visual design of the project. 

You can read an Intel case study here about how they used Comfy's workplace solution to achieve 20-30% improvement in space utilization, 26% increase in employee productivity, and 10% reduction in energy consumption.